Esmistudio EuroMillions Generator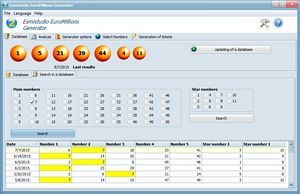 Esmistudio EuroMillions Generator is a program specially designed for EuroMillions Lottery.
It can help you to increase your chance of winning in lottery, analyze statistics both in chart and table views, use recommended or your own defined filters,
select balls to play and generate tickets based on program recommendations and your own filters.
Statistics can help you to analyze every ball, groups of balls, consecutive balls, the last digit of each ball, sum, odd and even combinations as well as low and high combinations. Filters are applied to further enhance your chances of playing the right combination .Based on the selected balls, you can randomly generate the lottery tickets to play.
The draw results for the supported games can be downloaded and updated with a single click.
Progaram has multilingual interface for English, German, French, Italian, Russian and Spanish.
For Windows XP, Vista, 7, 8, 10

Program has simple to understand interface and basically you can generate tickets following 5 easy steps.
1. Update database file to receive latest results and keep analysis up to date.
2. On Analyze tab click 'Analyze and recommend' button (it's a main step in process), until that all other options will be disables with exception of database search.
3. On Options tab, view and use your own or recommended filters (or combination of these 2 methods).
4. Select Balls to play on Select Balls tab (also based on program and your own preferences).
5. Generate tickets on Generate tab, then save it to file, print or export to PDF.
Program only analyzes lottery data and based on mathematical and statistical methods offer you recommendations, there is no guarantee that you'll just win Jackpot.
However it can reduce number of unnecessary combinations and increase your chanses to win.
Always play responsibly!
Screenshots
| | | |
| --- | --- | --- |
| | | |
| Database and Search database Tab | | Chart View - Table and Chart Tab |
| | | |
| Filters tab | | Select numbers tab |
| | | |
| Generate tickets tab | | Select language menu |